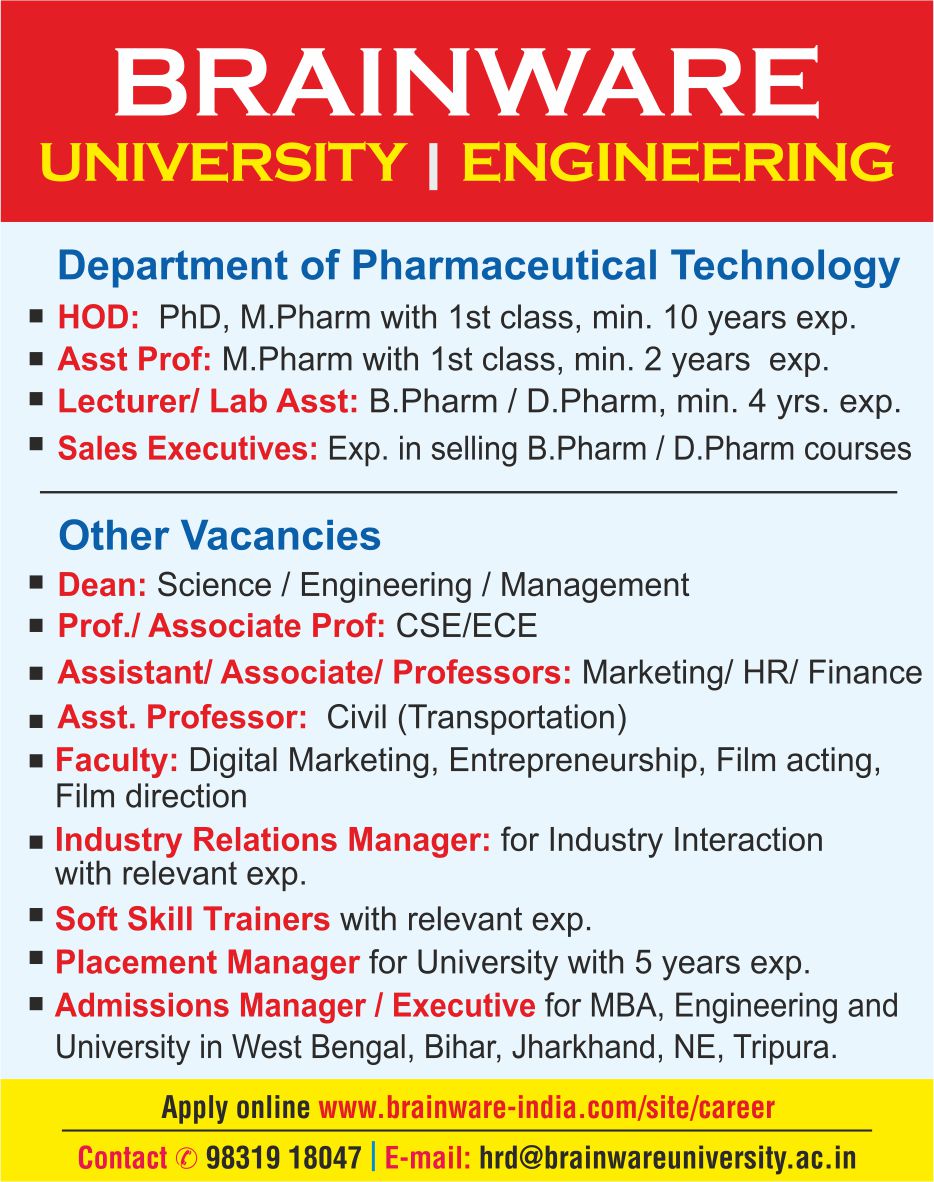 Apply

Deputy Registrar
Educational and other qualifications required for direct recruits: For Direct Recruitment:
A Master's Degree with at least 55% of the marks or its equivalent grade of 'B' in the UGC seven-point scale; along with
Nine years' of experience as Assistant Professor in the AGP of Rs.6,000/- and above with experience in educational administration. OR Comparable experience in research establishment and / or other institutions of higher education. OR 5 years' of administrative experience as Assistant Registrar or in an equivalent post.
Desirable Qualifications with anyone of the following:
Experience of administrative practices, human resource management, statutory functions and academic activities of Universities / R&D institutions.
Experience of handling legal matter / Finance Matters / Exam Matters
Experience of IT applications in administrative matters.
The incumbent should possess good communication, managerial and leadership skills to head a division / branch and possess good drafting and noting skills. Should be conversant with official procedure and capable to moot proposals independently.
Should be able to participate in discussions with senior functionaries and academicians.
The incumbent is expected to handle one or more functions independently related to educational administration / examination / general administration / purchase / establishment / accounts and finance / project management / HR and Legal
Location- Barasat
Vacancies: 1
Remuneration- As per Industry standards
Apply

Controller of Examinations
Educational Qualification & Other Requirements: Essential:
A Master's Degree with at least 55% of the marks or its equivalent grade of "B" in the UGC seven point scale.
(i)At least 15 years of experience as Assistant Professor in the AGP of Rs. 7000 and above or with 8 years of service in the AGP of Rs. 8000/- and above including as Associate Professor along with experience in Educational Administration. (OR) (ii)Comparable experience in Research Establishment and/or other institutions of Higher Education (OR) (iii)15 years of administrative experience, of which 8 years shall be as Deputy Registrar or an equivalent post.
Desirable Qualifications
Experience as Controller/Deputy Controller of Examination in a Central or State University with affiliated colleges.
Experience/Knowledge of Automation/Computerization of University/Administrative functions.
Job Description
To be responsible for the organisation of all internal examinations;
To organise the collection of registration and examination fees; organising, invoicing and ensuring money collected is credited to the relevant account, in liaison with the Finance Officer;
To co-ordinate the preparation and submission of entries to examining bodies;
To ensure all examination papers and stationery are provided safely to the school, being responsible for their strict security and ensuring completed papers are collected promptly and appropriately;
To be responsible for arrangements of the conduct of examinations;
To co-ordinate with the team of invigilators and deployment of invigilation staff;
To make appropriate timetabling and room arrangements for the above and ensuring proper examination invigilation of the examinations is put in place;
To ensure that all examinations start and finish appropriately in line with examination board regulations;
To ensure that students are given all the necessary relevant information about examination entries, the dates and times of the examinations, conduct during examinations and the collection of results and certificates and that this information is given in good time;
To deal with issues relating to appeals, remarking and other administrative issues such as students who miss examinations through illness or who require special consideration;
To deal with enquiries from parents and students, including former students;
To receive examination results and certificates and making arrangements for their issue;
To undertake any other related duties and responsibilities of an equivalent nature assigned by the Controller of Examinations.
Location- Barasat
Vacancies: 1
Remuneration- As per Industry standards
Apply

Associate/ Adjunct/ Visiting/ Part-Time Professors
a. Eligibility for Associate Professors:

Good academic record with a Ph.D. Degree in the concerned/allied/relevant disciplines.
A Master's Degree with at least 55% marks (or an equivalent grade in a point scale wherever grading system is followed).
A minimum of eight years of experience of teaching and/or research in an academic/research position equivalent to that of Assistant Professor in a University, College or Accredited Research Institution/industry.
A minimum of 5 publications as books and/or research/policy papers.
Job Description:
Imparting instruction and conducting research in the University or in any College or Institution maintained by the University
Active involvement and contribution to educational innovation, design of courses and technology .
Active involvement in departmental planning, administration, research and teaching.
Keeping abreast of latest applications and technologies and latest inventions, and sharing them regularly with the students.
Industrial experience will be preferred.
b. Eligibility for Adjunct/Visiting/Part-Time Professors:
i. Essential:
1. First Class Master's Degree in Civil, Mechanical, Electronics, Electrical, Computer Science, Physics, Math, English, Marketing, Finance, Networking, Hardware, Multimedia or first class in two year full time PGDM declared equivalent by AIU / accredited by the AICTE / UGC;
OR
2. First Class graduate and professionally qualified Charted Accountant / Cost and Works Accountant / Company Secretary of the concerned statutory bodies.
ii. Desirable:
1. Teaching, research, industrial and / or professional experience in reputed organization;
2. Papers presented at Conferences and / or published in refereed journals.
OR 3. Ph.D. with first class or equivalent at the preceding degree in the appropriate branch with a very good academic record throughout and a minimum of 3 years industrial/research/teaching experience, excluding the experience gained while pursuing Ph.D.
Roles & Responsibilities:
1. Teach Theory & Lab courses as assigned by the Registrar of the University/Head of the Department
2. Evaluate student performances through quizzes, class tests, examinations, supplementary examinations etc.
3. Prepare question papers, grade answer scripts and invigilate during examination time
4. Conduct directed course for selected students
5. Guide student projects at UG and PG levels, help them with reports, review articles, research papers etc.
6. Contribute in House Journal
7. Coordinate and participate in Industrial /field Visit for the students
8.Supervise summer internship and visit the companies/students during the internship, if required
9.Perform Academic Administration Jobs such as Program Director/Coordinator, Course Coordinator, etc. as and when assigned
10.Organize and supervise seminars for students
11.Attend Short courses, seminars, conferences, workshop to improve own skills and /or present papers
12.Organize conferences, workshops, short courses in areas of own expertise
13.Undertake research and/or R & D activities in house
14.Assist Continuing education program by offering special lectures or designing and conducting short courses etc.
15.Develop Course material particularly in areas where materials are not available or are very expensive
16.Ensure discipline in class and on the campus
17. Help as &when required in:
a. Coaching students in developing special skills, preparing them for job interviews
b. Help students placements
c. Counsel students on their academic as well as non-academic problems
d. Helping students with co-curricular activities and sports activities
Location- Barasat campus
Remuneration - As per UGC norms

Apply

Admissions Executive
Eligibility:
2-3 years experience in an Engineering College or University will be preferred.
Experience in working in Bihar, Jharkhand, North Eastern States, Tripura and Bangladesh will be preferred.
Job Description:
Data collections from schools ,colleges and fairs
Counselling prospective students
Closing admissions
Location- Salt Lake
Remuneration- Industry standard plus performance linked incentive bonus.
Apply

Dean Engineering, Science, Arts & Humanities(English)
Eligibility:

Must be a Ph.D. holder
Master degree with minimum 55% marks
10-15 years teaching experience (minimum) with Industry knowledge
Job Description:
He/she must have excellent communication & presentation skills
Ability to develop strategic plans
Promoting healthy work environment
Supervising and coordinating the activities of staff members and students
Forging innovation and experimentation
Introducing updated study techniques
He/she must be able to administer and competent enough to carry out tasks responsibly
Location- Barasat
Remuneration- As per Industry standards
Apply

Academic Counsellors
Eligibility:
3-5 years experience as a counsellor in an Engineering College or University will be preferred.
Counsellors will be based in Kolkata, Barasat , North Eastern States, Bihar, Jharkhand Tripura and Bangladesh.
Should have excellent communication skills and telephonic etiquettes
Job Description:
Counseling & convincing prospective students
Handling students' queries
Communicating with parents
Walk the guardian/students through admission process
Look after operations processes
Location- Kolkata/ Barasat/ North Eastern States/ Bihar/ Jharkhand/ Tripura/ Bangladesh
Remuneration- Industry standard plus performance linked incentive bonus.
Apply