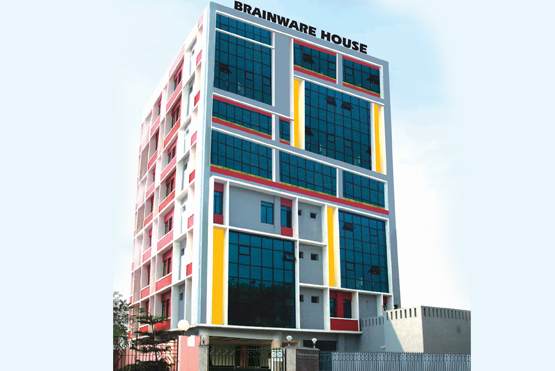 With excellent track record and brand value and over
31 years of experience in education.
Employing over 800 top professionals and academicians, Brainware has come to be associated with an institution of repute offering well trained quality manpower to the industry. Every member of the Brainware Family enjoys diverse opportunities for intellectual, personal and professional growth. Learning and working at Brainware will foster quick, well-rounded minds, well-equipped to succeed in our fast-changing world.
There are 2 Private Limited Companies and 1 Trust under Brainware. They are:
Brainware Consultancy Pvt Ltd

Brainware Consultancy Pvt Ltd offering a range of IT/ITES courses through its owned and franchised centres. The courses are in areas of Hardware, Networking, Desktop Publishing, Multimedia and Animation, Computerised Financial Accounting and Communicative English. We offer courses in Microsoft, Red Hat, Linux and other vendor-based certification programmes. We also offer diploma and post-graduate diploma courses jointly with Jadavpur University. Under this company we have around 30 existing training centres in Kolkata and the districts.

Sabita Devi Education Trust

Sabita Devi Education Trust run Brainware Group of Institutions offering AICTE/WBUT approved MTech, BTech and MBA courses. Housed in a large 9 acre campus in the district town of North 24 Parganas and just 30 kms away from Kolkata Sabita Devi Education Trust also run Brainware College of Professional Studies offering WBSU approved BBA (Hons), BCA (Major), BSc (Hons) in Multimedia and Web and BSc (Hons) in Hardware and Networking

WebGuru Infosystems Pvt Ltd

WebGuru Infosystems Pvt Ltd , which is a sister concern of Brainware, provides Web Solutions since 2005. WebGuru Infosystems proudly celebrates its 10 years of 'Webcognition'. The team of WebGuru has developed and adapted themselves to the changing business and technical environments. Moving forward in this industry, we are truly optimistic of our future ventures and aspire to be coherently together.
We face challenges and celebrate victories unitedly.
Professional and ethical work culture is our only attitude that has attributed to our record of 10000+ global clientele spanning across India, Australia, USA, Canada, Europe, Nigeria, South America and more.